Makes the difference
This program works from some very different concepts compared to other calendar programs. I have designed it to be a tool that is fast to work with, to get a good overview of coming events, to not having to reenter birthday notes every year, to get an easy way of setting alarms for TV shows repeating every week.

What's displayed in the main window is a long list of notes with the coming week focused. You can easily scroll up or down when you want to see more. Or use the search box. One long list, no notes are hidden inside pages of months or days like in other calenders. This gives you a great overview.


Deleting a note

In the display window, make sure the "mark-actions" checkbox is checked. Then use the mouse to mark some text of the note you want to delete.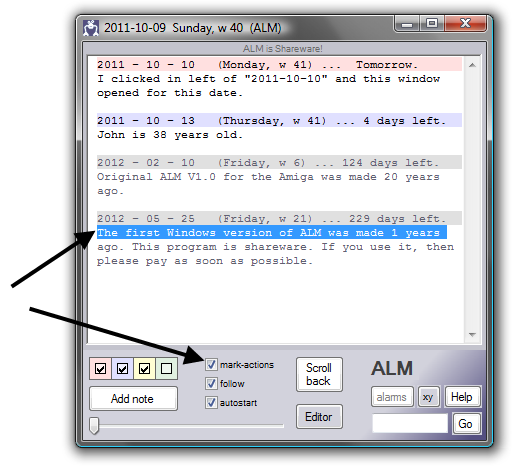 The editor window will open and the same text you marked will be marked in the editor: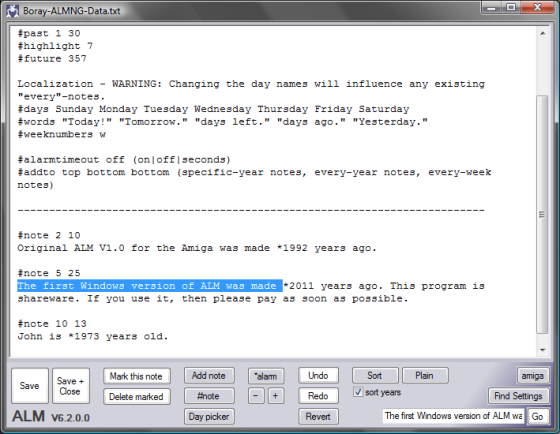 Now, click the buttons as follows: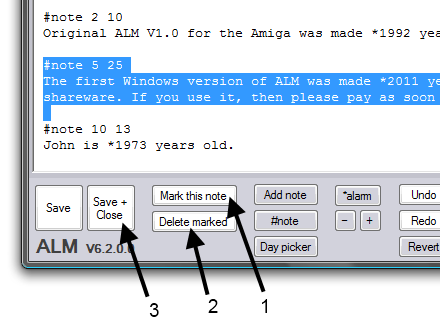 1. "Mark this note"
2. "Delete marked"
3. "Save + Close"
Ready

An alternative to deleting a note is to change the word #note into #not. The note will then not be shown in the display window but the data will still be in there. You can change it back to #note some day if you like.


Editing a note

Do the same as for above, but instead of marking and deleting the note, just make your changes instead.


Autostart

If you want to launch ALM when the computer starts, then just check the "autostart" checkbox. (You can uncheck it again at any time). If you make ALM to start like this, the window will only be shown to you if there are any notes in the current note filter for the coming week.

Putting ALM in your startup will make some use of the otherwise useless waiting time when all of your windows programs are starting up. When my computer is loaded and fit for fight, I have already looked at the coming events in ALM.


The Scroll-back button and the time span control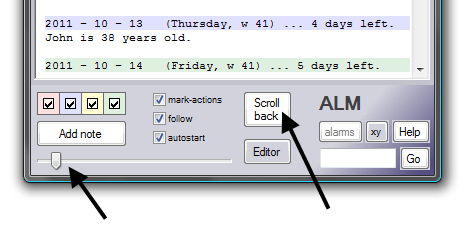 The time span control increases the time span shown in the display window. By default you have a time span of one year in the future and one month of the past. This control can increase both the past and future with up to two years each = a time span of about 5 years. But with a too high time span, it will take time to update the window. You can change the time span even further in the editor.

The Scroll back button simply takes you back to the start position in the window, in other words, to the nearest future. A quick way back if you have scrolled around.


Ready to go?

Well... This is all you need to use the program. If you want to look things up or learn more about something, then take a look in the ALM reference manual. Oh, if you live in USA, you better turn off the week numbers.

Here is an ALM demonstration film you could watch: