Something is Ready
This is a small program that notifies you when a CPU intensive task has ended.
That's it.

It's useful for example when you want to render something big while doing other things or when you convert sound, pictures or movie files in the background.

I designed it in first hand to notify me when a rendering has completed in Reaper (music program), so that I can surf the web while doing it. With it's straight forward user interface, it can of course be used to detect when any cpu intensive task ends.


Download
sir.zip V1.1.1 (~100 kB)

(NET 2.0 is required. It's included by default in Windows 7, Vista and in all updated versions of XP.)

"Something is Ready" is a so called portable application which means that you just unzip it where you want it and then it's ready to run. Settings will be saved to the same folder.

This program is free, but please consider to buy some of my music.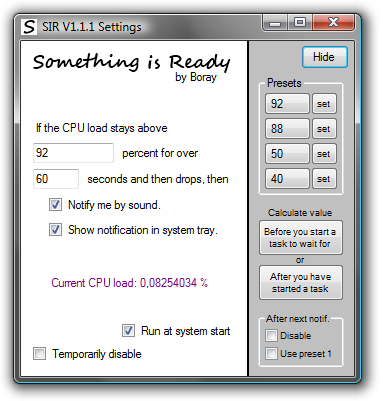 Softoxi.com editor team:
"Something is Ready - a neat little tool that will notify you (visual and audio) once a heavy CPU loading process has ended. Portable and free of charge."