SELECTOR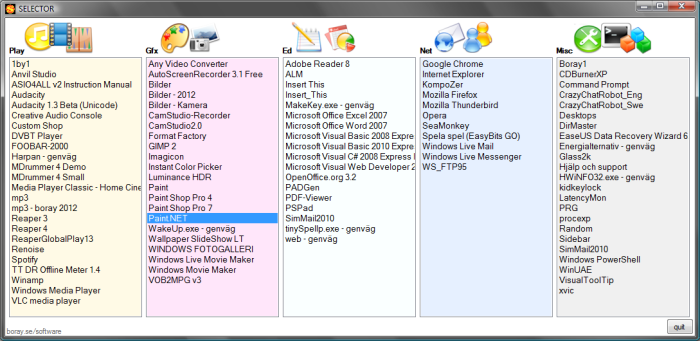 I planned to keep this one for myself, but if I find it useful then maybe someone else will find it useful as well, so I developed it a little more and, here it is!

The story: I had five folders attached as toolbar menus on the taskbar. This way I could sort my applications by category in the five folders on my desktop and quickly find the right one right from the taskbar. (Kind of like the Linux Mint start menu). BUT when installing Microsoft Security Essentials, these menus got really slow when opened for the first time. This was very annoying so I considered going back to Avast (which slows down some other things instead). But instead I made this little program replacing the taskbar menu functionality.

How it works: You create these five folders on your desktop: Play, Gfx, Ed, Net and Misc. Then you put whatever files you want to have in your selector into these folders. That would most likely mean sorting out and moving all of the program shortcuts you have on your desktop into suiting categories. Then you will not just have a neat menu, you will have a clean desktop as well! To open the menu, just click Selector's task bar icon.




Download
Selector_m.exe V1.4 (85 kB)

Changes in V1.4: Added icons. I used free icons from Crystal Clear. When clicking an icon (or the title), the corresponding folder is opened.

Changes in V1.3: Bugfix. Previous version crashed if you clicked somewhere in an empty space/not on a filename. I think it's a bit remarkable that I've not done that in one and a half year of heavy usage of the program.

(NET 2.0 is required. It's included by default in Windows 7, Vista and in all updated versions of XP.)

Configuration:
Just put the executable where you want it. There are no settings files stored but you can change the behaviour of Selector by RENAMING the program:

Selector_m.exe

| | | |
| --- | --- | --- |
| When Selector is started, the selector window is shown right away on the left side of the screen. When you have started something from the selector by clicking it, the window is minimized. This setting is most suited for pinning to the task bar in Windows 7/8. Kind of perfect for Windows 8 if you want a start button where there always has been one. | | |


Selector_e.exe

| | | |
| --- | --- | --- |
| When Selector is started, the selector window is shown right away on the left side of the screen. When you have started something from the selector by clicking it, the Selector program is closed completely. This setting is most suited for the quick launch field. This will be slightly slower than the other two settings as the program has to be loaded and started every time. | | |


Selector_n.exe

| | | |
| --- | --- | --- |
| When Selector is started, a notify icon is added to the right of your task bar but the selector window is not opened. When clicking the notify icon, Selector is opened on the right side of the screen. You should configure the task bar to never hide Selector's task bar icon. With this setting you most likely want to make Selector auto start on startup, which you do like this: | | |






This program is free, but please consider to buy some of my music.

Usage tip 1: In the category folders you can also create shortcuts to your favorite folders and clicking them will open a file explorer for the location. So it's not just shortcuts to executables you can put in the categories. You can put shortcuts to any kind of files in there and clicking them will open them with their default tool.

Usage tip 2: If you want sub categories, you can just rename your shortcuts in the category folders, for example with "GAME- Worms", "GAME- Lemmings" etc and you will find all games easily as they will be sorted together.

Usage tip 3: There is nothing that prevents you from using more than one setting. For example: I have both a Selector_n icon in the task bar and a Selector_e in the quicklaunch field on my Vista.

Usage tip 4: It can be a good idea to rename those shortcuts/files you use most often into all big letters, for example FOOBAR2000 and it will be easier to find them quickly in the lists.

Does Boray Selector sound familiar? Well, I kind of reused the name from my old Amiga program called Selector which by the way is magnitudes more advanced than this. It was once on the front cover of the Amiga Format magazine. In 1997 I invented the functionality to start a program as well as opening the already open program with the same button in Selector. 12 years later the same functionality was introduced in Windows 7: Programs pinned to the task bar.