NoMess!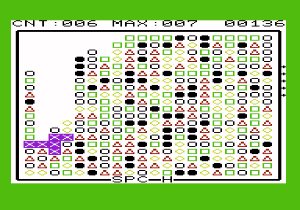 For Unexpanded Vic-20
Download: nomess.zip
Game programming by Björg Stojalowski.
Sound programming by Anders Persson.
A great litte game, now for vic-20. The idea is simple: Move the cursor with the joystick and click on any space in the screen. If two or more adjacent symbols are the same, they will be removed and the rest above them will drop down. The more symbols that are erased at a time, the more points are rewarded, so plan a little bit ahead to get the highest scores...
Keys:
Space - Help
F1 - New game
F3 - Easier level
F5 - Harder level
F7 - Quit and save high-scores to disk
H - View high-score for this level
S - Turn the background mystery sound On/Off
Have fun!
---
Back